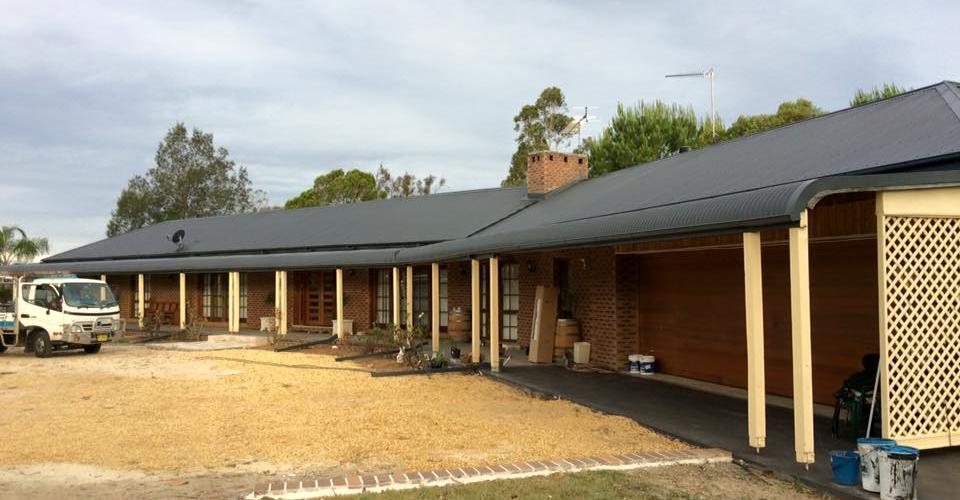 Southwest Roofing offers roof guttering services Sydney wide
Have your gutters seen better days? Replacing them doesn't have to be a costly exercise that leaves you stressed! Let Southwest Roofing handle your guttering replacement needs, as you will find that we strive to provide high quality roof gutter replacements at very affordable prices. As a company that deal directly with our clients, we have removed the need for any sales people or middle men, reducing our overheads and ultimately reducing the price we can offer to you. With over 15 years experience in the industry, Southwest Roofing is the best company to call when it comes to roof gutter installations, as you can be sure we have the experience needed to provide an excellent level of workmanship and service.
Roof gutter maintenance is imperative in terms of the appearance and functionality your home. Gutters and downpipes must be cleaned every 3 months or more often in leafy areas in order to prevent blockages. In addition, moist leaves can cause gutters to rust prematurely and then they need to be completely replaced. A leaf screener, otherwise known as a gutter guard system, is a great way to keep your gutters clean and eliminate this problem.
Here are some of the most popular guttering products we carry. Ace Products have proven their quality time and time again, and we have grown to trust their products over the many years we have been providing roof gutter replacements.
View ACE Gutters Product Brochure
MINI-LINE GUTTERING
Ace's Mini-Line is a smaller version of Ace Nu-Line Gutter. It has a similar front profile with a flat back to fit flush to the fascia using concealed or external brackets. Ace Mini-line rainwater capacity is approximately 20% more than 115mm Quad Gutter and with overflows designed in the front of Mini-Line, it makes it ideal for heavy rainfall areas.
SQUARE-LINE GUTTERING
Ace's Square-line roof gutter is a square front gutter that is slotted and needs to be folded around corners, eliminating the use of external angles and fixed with concealed brackets. This is ideal for garages and carports with overflow holes designed in the front.
HALF ROUND GUTTERING
Ace's Half Round is a European style roof gutter with a semicircular design that is supported by external brackets. With a 150mm diameter, it has a greater water capacity and the speed of the water travel is greater than a conventional gutter, allowing to clear debris and silt. The great advantage of having this cylindrical design is that it has a self cleaning feature.
ROUNDLINE GUTTERING
Ace's Roundline is a cylindrical designed gutter with a flat back and no external brackets. It is a European style gutter with a 150mm diameter and self cleaning feature.
ACE QUAD GUTTERING
Ace Quad is a traditional high front quadrant roof gutter used on colonial style houses and is very popular on new home construction. It is a slotted gutter with overflow holes and a 115mm diameter.
Maintaining your gutters
In the warmer months it is important to ensure your gutters are free of leaves and debris to prevent fires, and in the cold and wet seasons it is equally important as leaf build up can cause premature aging, rusting and leaks in your guttering – meaning a replacement will usually be needed.
It is advisable to do the following:
Check your roof guttering regularly for holes, and leaf and debris build up.
If your gutter needs to be replaced, ensure you only use a trusted and experienced repair company, such as Southwest Roofing.
Make sure your gutters are clear in summer – try a leaf screener to prevent leaves from clogging up your down pipes.#
To prolong the life of your gutters, clear them out once a month – especially in the rainy seasons.
If you wish to find out more about roof guttering in Sydney, be sure to give us a call today on 1300 600 322!